If you're considering purchasing self-defense ammunition, you'll need to make a few important decisions before you buy. Many new shooters devote a substantial amount of time to determining which ammo is best for their handguns, and this is a decision that should not be taken lightly because this is a weapon you rely on to protect your life and the lives of your loved ones during a dangerous encounter.
Few shooters, on the other hand, choose the best self-defense ammo with attention, which is a mistake.
Every day, the fact that you are alone responsible for your own safety becomes more evident. In the worst-case scenario, you'll need a trustworthy handgun chambered for a cartridge with readily available fight-stopping bullets.
It's vital that you get high-quality self-defense ammunition for your firearm, but how do you go about doing so? How can you know which ones are average and which ones are exceptional?
IMPORTANT FACTORS TO CONSIDER WHEN BUYING SELF-DEFENSE AMMUNITION FOR YOUR GUN
It's easy to overlook the need of investing in high-quality self-defense ammunition for your concealed carry pistol or home defense weapon. But, exactly, what does "good self-defense ammo" imply?
These are things that your ammo should be able to do on a daily basis:
1. Reliability
If there's one thing I think is most important, it's that your gun can really fire the shot.
Expansion and penetration won't matter if your weapon doesn't operate with the self-defense ammunition you've chosen. So that's the most important.
With your chosen ammo, you must also be able to strike your target reliably and regularly. You'll have to come up with a solution if you can't.
We normally recommend that you put a few boxes of self-defense ammo through their paces in your rifle to be sure they're in good operating order.
2. Penetration
Penetration comes up second because, even if the gun cycles correctly, the projectiles may not do enough damage to stop the assailant if they do not penetrate far enough inside. As a result, self-defense ammunition should reliably penetrate between 12′′ and 18′′ when fired through ballistic gelatin. Keep in mind that ballistic gelatin is not the same consistency as human tissue. As a result, a 12-14-inch penetration in ballistic gelatin does not correlate to a 12-18-inch penetration in a human body.
Projectiles, on the other hand, must pierce deep enough into the body to target organs that allow it to function normally. Some individuals will assume that hollow point self-defense ammo is "more lethal" when this topic is brought up. This isn't the case. Bullets that travel at hundreds of feet per second through the body are inherently lethal. Despite this, not all missiles are made equal, and some fail to penetrate deep enough to incapacitate targets instantly. The objective is to take out the threat as rapidly as possible while using the fewest rounds feasible.
Because each round fired may miss its intended target and hit an innocent bystander, this is safer for both the individuals protecting themselves and the general population.
We don't want projectiles that go too deep, either. Unintentionally hitting innocent people with bullets that miss their intended target is an issue. We'll return to this topic when we discuss expansion.
Penetration is a trait that many police departments value in their duty ammunition. Officers are more likely to shoot through obstacles like auto glass and body panels than citizen defenders.
3. Expansion
Expansion is crucial first and foremost because the projectile flattens as it collides with the hazard. Cavitation occurs when a bullet expands inside an attacker's body, creating a longer wound tract and distributing more energy to the surrounding tissues. As a result, the round is more likely to disrupt physiological functions quickly and stop the attacker.
This was previously addressed in the penetration section.
When we talk about ending the threat, we're not talking about killing people.
By definition, the phrase "ending the threat" means exactly what those words mean. To put it another way, to prevent the person from carrying out whatever death threat action they were planning against the person who was defending himself. The distinction is explored in greater depth in this article.
Furthermore, extending your bullet lessens the likelihood of it passing through the evil person and injuring someone or something else (known as overpenetration mentioned earlier).
Some firms sell ammo that is supposed to expand, but it doesn't always. That's why I recommend Ammo And Gun Accessories store if you need to buy anything related to guns and guns accessories.
Several popular stalwarts have failed to expand or over and under penetrate in ongoing testing.
So, how big should a bullet be as it expands? Please don't get too hung up on the numbers; instead, look for a bullet that consistently completes the task. If you're a numbers guy, 1.5 times the original diameter is a good rule of thumb. There is no such thing as a standard, as far as I am aware. I've also come across 1.7X and a few more seemingly unrelated numbers.
For new and not-so-new defensive pistol users, deciding which type of ammunition to employ for self-defense might be complicated. For each given caliber, there are a variety of different loads, and the defensive handgun user, of course, wants to employ the most effective ammo that brings out the best in the caliber they decided to stake their lives on. Relax and keep reading since picking which defensive ammo to use is a straightforward process.
Modern self-defense handgun ammo receives more testing, research, and design than any other type of ammunition since it is used in life-or-death situations. That's where DOUBLE TAP AMMUNITION comes in.
This DoubleTap Ammunition is Lead-Free, Solid Copper Hollow Point, and CA Certified Non-Lead Ammunition
Modern self-defense handgun ammo receives more testing, research, and design than any other type of ammunition since it is used in life-or-death situations. That's where DOUBLE TAP AMMUNITION comes in.
This DoubleTap Ammunition is Lead-Free, Solid Copper Hollow Point, and CA Certified Non-Lead Ammunition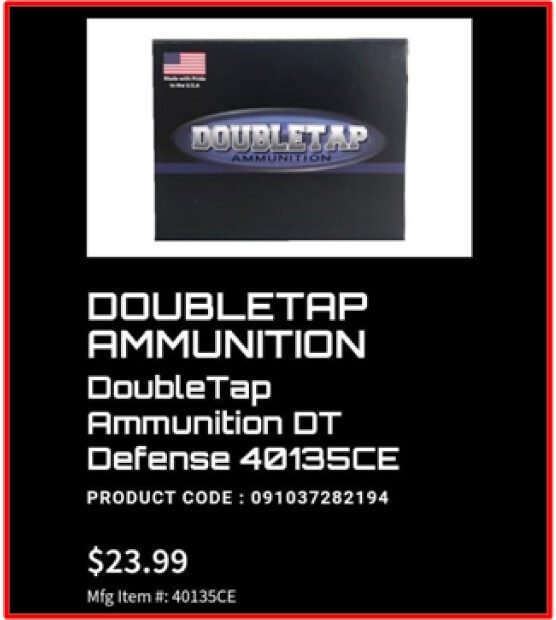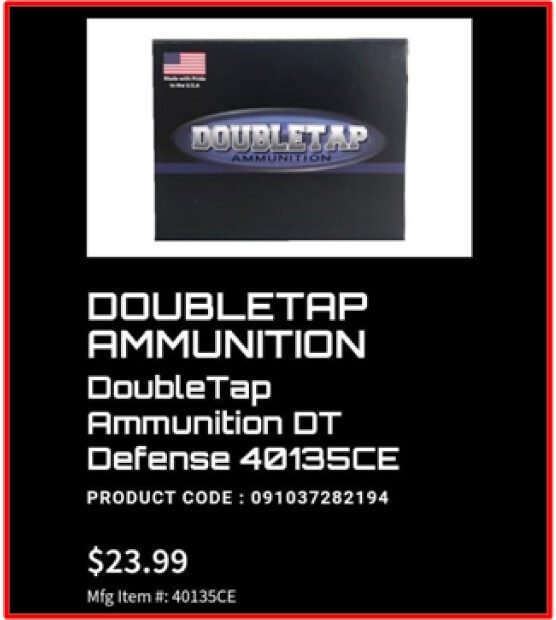 Check out this Firearms Training Course if you want to solidify your foundation weapon shooting principles. It's an excellent course for beginner shooters and those who want to correct some bad habits or improve their consistency.
Don't place yourself in a dangerous situation in terms of safety or legal liabilities. Either in your handguns, shotguns, or rifles, only use high-quality self-defense ammunition.
If you are in the local area in Arkansas of the following cities: Jonesboro, Paragould, Searcy, Trumann, Walnut Ridge, Batesville, Blytheville or anywhere close contact us to see when a class is being held. If you do not live close we travel to train groups and businesses in: Little Rock, Arkansas Memphis, Tennessee Poplar Bluff, Missouri And everywhere in-between.