Discover New Skills in Our Corporate Training Programs
As a business owner or team leader, investing in your team is the best way to guarantee the safety and growth of the company. One way to invest in your team is by enrolling in our corporate training programs. The training consists of; enhanced first aid knowledge, non-escalation and de-escalation training, and real-world active shooter training. These training programs will help your team develop a good insight about awareness, and teamwork, and help them have the upper hand when faced with emergency responses. We service Missouri, Arkansas, Tennessee, and Mississippi for any of your Corporate Training needs.
Improve your team with the expert instructors at 141 Shooting Range today!
Just fill out the short form below to learn more!
Our Corporate Training is Useful, Unforgettable and Convenient. We Will Come to You!
Nothing boosts self-confidence as much as being assured of adequate training and security. Therefore, training your work team in terms of handling emergencies will not only boost their confidence at work and improve their work abilities greatly, but it will also teach them the importance of teamwork.
We have worked with several companies in Northeast Arkansas and its surroundings, and so far, we've received nothing but positive feedback (over 1300 google reviews and hundreds of Facebook reviews). 141 Shooting Range consists of expert and experienced instructors dedicated to ensuring each training program's success. Whether you need us to travel to you come to us, we have you covered on that. How can we be of help to you?
Our Corporate Training Programs Offer
Bls (Basic Life Support)
Church Security
Conflict Management
Best of All, We Can Bring These Programs to You!
There is No Better Way to Promote Teamwork in an Organization Than Getting Your Team to Work Together. 141 Shooting Range Provides Quality Arkansas Active Shooter Training. Our Training Encourages Teamwork and Helps Grow the Bond Between each Teammates.
Cpr And First Aid Near Jonesboro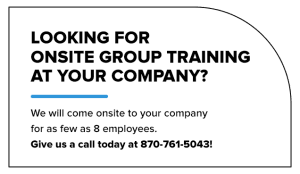 Join Us in Northeast Arkansas or We Can Come to You for Unique & Exciting Team-building!
Our corporate training programs are customizable, offer real benefits, and are led by proven leaders who will be able to take your team's productivity and safety to the next level. Whether you're only interested in a fun, high-energy outing to help your team bond or if you're looking to offer members of your company transferable skills that will carry over into their daily lives, our corporate training programs at 141 Shooting Range are personalized and will set you up for success. Please call, text, email, or use our contact us form to talk about your specifics needs and how we can come to you!
Or just fill out the short form below to explore corporate training!
Customizable Self-defense training for your needs!
Living In a world with so many unpredictable happenings, the need to develop certain skills to help you defend and protect yourself, your family, and your business when prompted is vital. We offer unique concealed carry training to both individuals and organizations.
Simple Striking Skills for Any Threat
Improved Situational Awareness
Decisive Reaction Times to Danger
Effective Hand-to-hand Self-defense
Incredible Self-confidence in All Aspects of Life
Start Your Self-defense Journey Today!
Looking for a fun and exciting seminar for your group or organization? Are you looking to give your employees knowledge to keep them safe in any situation?
Look no further.
At 141 Shooting Range, we're giving you the chance to combine proven training with essential Self-Defense skills that can keep you or your organization safe in any situation.
Join us here in Bono for a tailored seminar on self-defense that's perfect for women's safety, corporate self-defense, and so much more. Fill out the short form on your screen to learn more today!
CONCEALED CARRY TRAINING
While it is advisable to call the authorities when faced with danger, in some situations, you need to be able to defend yourself before the situation gets out of hand. When faced with such situations, how do you or someone within your organization handle the situation? The best way to stay prepared in the face of danger is to acquire self-defense skills.
That is where 141 Shooting Range comes in. Our self-defense seminar will help your team develop good self-defense skills in no time.
Challenge Your Body. Prepare Your Mind.
How well are the employees at your organization enlightened about self-defense? At 141 Shooting Range, we deliver successful Self-Defense Seminars that will help prepare your organization to stay safe and ready to act.
In a business space, safety is one of the most compulsory factors needed, and we can help you achieve that.
Get More From Your Seminar With Our Corporate Self-defense Classes in Bono
Worried about participating in an ineffective self-defense class? Well, you need not worry about that with us. 141 Shooting Range is THE standard in concealed carry in Jonesboro, Paragould, Arkansas, a company known for delivering quality Self-Defense training with productive results. In addition, we have trained professionals who are skilled in tailoring Corporate Training specifically designed to your organization's needs.  Logan Lee ran 4 full-time martial art schools for over 23 years!  You will not find someone more dedicated or more experienced to deliver this material to you.  Join us here at 141 Shooting Range to help your team gain a high level of confidence by empowering them with unique self-defense skills and teaching them the effectiveness of teamwork. Our Corporate Self-Defense Seminar is all your organization needs to step up its game.
Fill out the short form on your screen to learn more about our Corporate Self-Defense Seminar here in Bono!
What Cpr & First Aid Training is Right for Me or My Company?
Do you need to get yourself or your staff trained for an emergency? We've got you covered on that. 141 Shooting Range has the best set of professional instructors committed to delivering top-notch training to both individuals and corporate bodies. We offer comprehensive CPR and first aid training, Emergency Medical Response, Stop the Bleed, and many other pieces of training. Make 141 shooting range your preferred option for CPR classes in Jonesboro, Paragould, Arkansas.  We have trained over 157 CPR classes in the last 12 months alone, that's more than most instructors will teach in a lifetime!