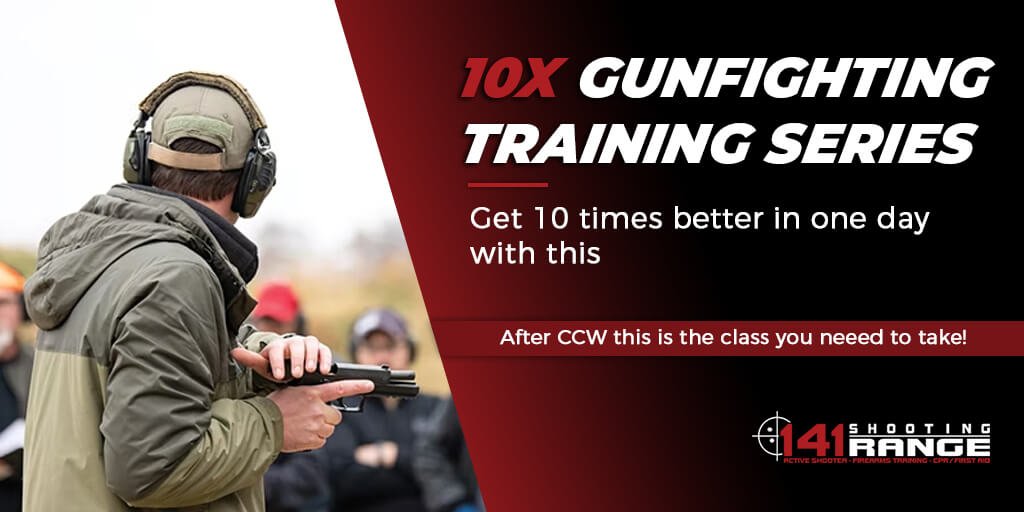 10x Gunfighting Training Series, Get 10 Times Better in One Day With This!
You get to do 4 of our best selling classes in one day for the price of only 3. Nothing is more valuable than your families life so spend one day of your life to learn the knowledge, traning, and skills to keep the safe. If you stand still shooting at targets standing still you just dictate where you want to die. We must move, draw, challenge, get behind cover, shoot from around cover, hit the target we intend to hit, and then deal with the medical emergency after. This class will make you ten times the protector you were the day before!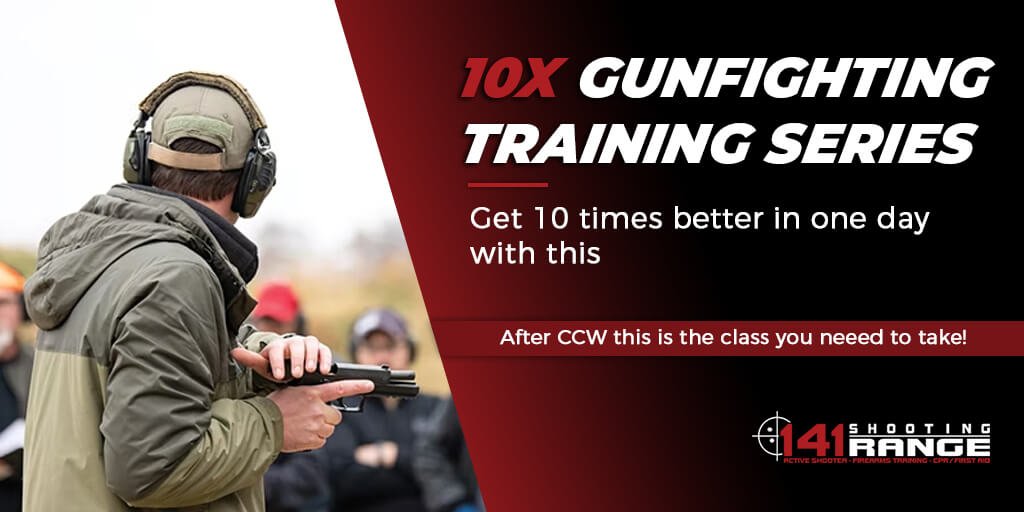 What Firearms Training Class is Right for Me?
"Learn The Secrets of Concealed Carry from NEA's Self-Defense Expert"
Standing still while shooting at targets standing dictates where you want to die! Learn our different shooting platforms and how to move between them and how to use cover while delivering combat accurate rounds!
Learn How to Shoot Better Than Your Friends
(Marksmanship)
How well can you fire a shot? We have a class designed to help anybody become an excellent marksman. Whether you are new to the shooting experience or you are looking to improve your skill, we can help you achieve your goal of being an excellent shot. We will teach you the 7 Fundamentals of Marksmanship in a step-by-step guide and show you how to apply that to the target. 141 Shooting Range provides the best handgun marksmanship training. The trick to being a good marksman is by ensuring that you learn all that is needed to be learned about shooting, both fundamental and practical. This class is a blended learning class with an online part to teach you all the fundamentals and a hands-on part to show you how it is done. This is the 3rd most popular class we teach here at 141.
Nra
Range Safety Officer Certification
Learn how to keep your shooting range safe and earn your NRA Range Safety Certification. If you are interested in being an RSO and would like to volunteer here at the range helping others learn the art of pistol craft please contact Logan
Learn How to Shoot Around Barricades
Considering how unsafe society has become, learning only the basic aspect of concealed carry shooting is no longer enough. You also need to learn some necessary shooting skills. Having a handgun can help deter potential threats away, but what if the threat has a handgun as well, How do you then defend yourself? This class will help you learn how to move to positions of cover and then shoot around that cover. Shooters of any level can take part in this class. Expert instructors will help you learn to shoot more defensively, shooting around barricades and still hitting the target.
Learn How to Move With a Defensive Handgun
Standing at a place to shoot without taking cover from the shots coming from the other party gets you as good as being dead. In this class, you will learn to move defensively to take positions of cover. This class will also teach you how to move and draw, verbally and nonverbally challenge the suspect, move to positions of cover and practice different shooting positions. (no ammo is required for this class)
Handgun Marksmanship Online Course
ONLINE CLASS ONLY $49
Improve your level of marksmanship today by applying for this unique handgun training today! Learn to hit an intended target, without missing, with the use of the seven fundamentals of marksmanship.
This online course teaches you to draw your handgun, move while shooting, hit your intended target, use different shooting positions, and any other shooting skill you can think of. Become a shooting pro today! This is the online-only version. We also have a hands-on part at the range if you signup for the other class.
Need A Private One On One Class On Concealed Carry, CPR, BLS, Active Shooter, Self-Defense And Conflict Management?
We are aware that not everyone can meet up with our scheduled classes. It could be due to limited time or clashing hours, or maybe you prefer learning privately. However, we have a way out for you; we offer customized training for people wanting private lessons.
We can train you privately, anytime, any day; however, these options have to work around our group lessons and my other corporate training schedule. So get in touch with us, and we will work out a plan together. The best part is we can come wherever you are, or you can come to us, whichever option is preferable for you.