Cpr and First Aid Training and Other Emergency Medical Response Training
We offer onsite company training; if you have eight or more employees, we will customize your training and come to you!
We offer mostly corporate-type training for CPR and First-aid classes; however, we try to do one open enrollment class a month, maybe two. We offer AHA Heartsaver and BLS, American Red Cross, and ASHI certifications. We can make that happen if you prefer us to do the training at your location in Jonesboro, Little Rock, Searcy, Poplar Bluff, Kennett, Memphis, Blytheville, and everywhere in between.
Huge Difference
You or your staff members may already have little basic knowledge about CPR and First Aid. But, living in a world where extreme emergencies are bound to happen on a regular, you need more than mere basics. Learning CPR and First Aid the 141 way makes a huge difference. You will not just be taught about the basics but also all you need to know to help others or yourself when faced with emergencies. Whether you need personal training or training for your staff, we've got you covered on that. We offer comprehensive CPR and first aid training, Emergency Medical Response, Stop the Bleed, First Responder, and many other pieces of training to anyone in Jonesboro, Paragould, Walnut Ridge, and around. Our training guarantees quick response in the event of an emergency from your staff, there will certainly be a significant difference in even their personalities from when they started the training and after.
Course For Anyone
Anyone can enroll in this class as CPR is a needed skill for everyone. This course teaches students critical skills on how to respond to and manage an emergency in the first few minutes until emergency medical services arrive. The class is comprehensive yet simplified, meaning you can take part in this class and fully understand it whether you've had basic training on CPR before or not. As a student in this class, you are guaranteed to learn the duties and responsibilities of first aid rescuers; first aid actions for medical emergencies, including severe choking, heart attack, and stroke; and skills for handling injury and environmental emergencies, including external bleeding, broken bones and sprains, and bites and stings.
The most popular option is our blended learning option. The logical or cognitive part is done online, while the hands-on skills takes two hours onsite, making the class flexible for you.
Our courses are for anyone with limited or no medical training who needs a course completion card in first aid to meet job, regulatory, or other requirements. You don't have to take a day off work to do training, just an extended lunch with us!
Learning CPR-First Aid at 141 Shooting Range involves online training and a 2 hours physical skills portion; this is because they are generally based on American Red Cross.
If you need another organization, please let us know what you need through this contact form
or call us – at (870) 230-0517! We can make private lesson options available to you.
Adult and Pediatric First Aid/cpr/aed Training
Perfect for teachers, daycare workers, factory workers, foster and adoptive parents, and many other occupations not related to the medical fields.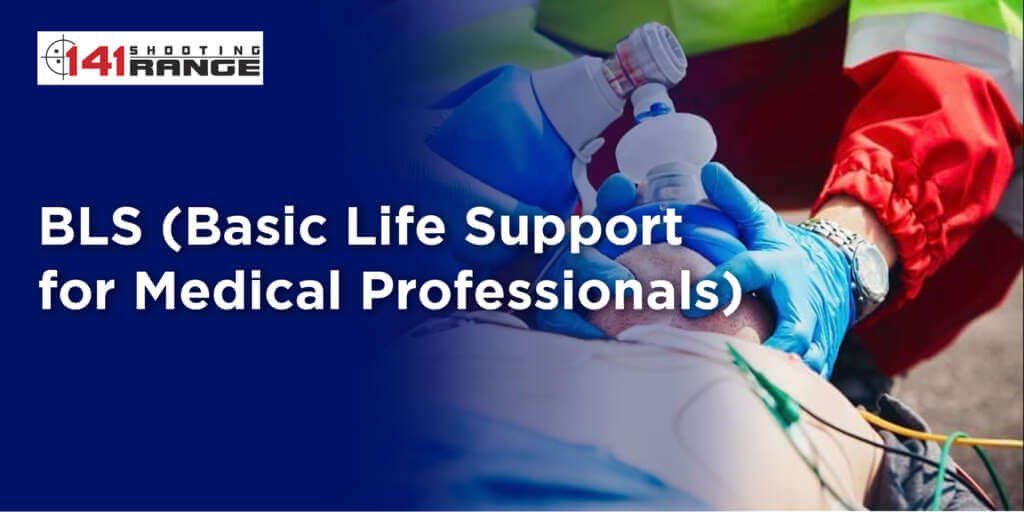 Basic Life Support Training
This is for medical professionals, firefighters, EMS, nurses, dentists, pharmacists, etc.
Stop the Bleed Training
After a Violent encounter you may have to stop the bleeding of your loved one whether its a gunshot, knife attack, or vehicle accident learn the knowledge, skills, and equipment to save a life..