Active Shooter Training In Arkansas
An individual who actively engages in the intentional or attempted killing of another person in a populated location. Individuals and organizations can be better prepared to respond effectively to active shooter situations by undergoing training, which can occur anywhere. Active shooter training is necessary to increase the awareness and preparedness of the community, develop effective mechanisms to deal with active shooters, and minimize the risks of harm and property damage.
What Is Active Shooter Training?
Active shooter training aims to prepare individuals and organizations to deal with an active shooter situation as quickly and effectively as possible. An active shooter can come at any time and place, and their major intent is to shoot whomever they can, and this makes them dangerous.
Our active shooter training program provides you with all you need to be equipped in cases of active shooting. We teach you the seven-time clocks of an active shooter event and the responses for each one.
You can complete your active shooter certification at your preferred location.
Get In touch with us today, an outstanding Arkansas active shooter training.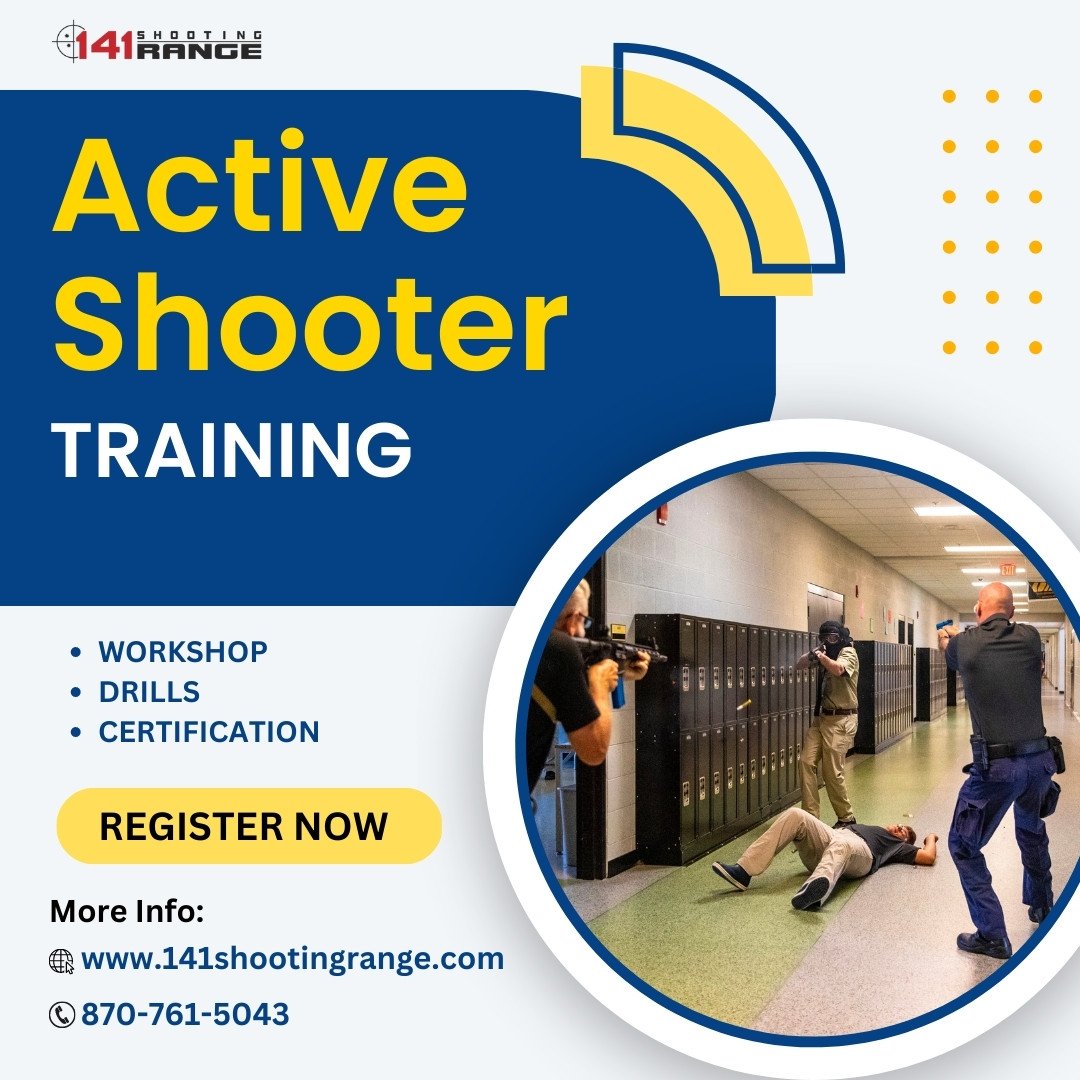 Our Active Shooter Training
2000+ Google 5 Star Reviews
300+ Facebook 5 Star Reviews
Active Shooter training for your factory, business, or daycare in Arkansas, Missouri, and Tennessee
Importance of remaining alert, being decisive, and having a pre-planned practised response.
How to maintain a vigilant awareness of student behavior?
How develop a school and classroom plan for dealing with an active shooter? How to conduct school safety walks?
How to develop your leadership skills? the basics of tactical emergency First Aid.
Your first and best option is how to identify the best escape routes & managing movement.
Your second option is how to prevent the shooter from entering your location.
Your third option is how to use weapons of opportunity, disarm the shooter or directly engage a shooter.
What to do at each of the seven stages on an active shooter incident; how to work with local law enforcement
An organization might utilize tabletop exercises to test the effectiveness of its emergency response plan and identify areas that can be improved through discussion-based exercises.
To practice responding to an active shooter situation, drills and simulations can be used with hands-on exercises.
As soon as participants have completed a training exercise, organizations should evaluate their performance and give them feedback so they can make improvements in the future.
Benefits Of An Active Shooter Training
Active Shooter Statistics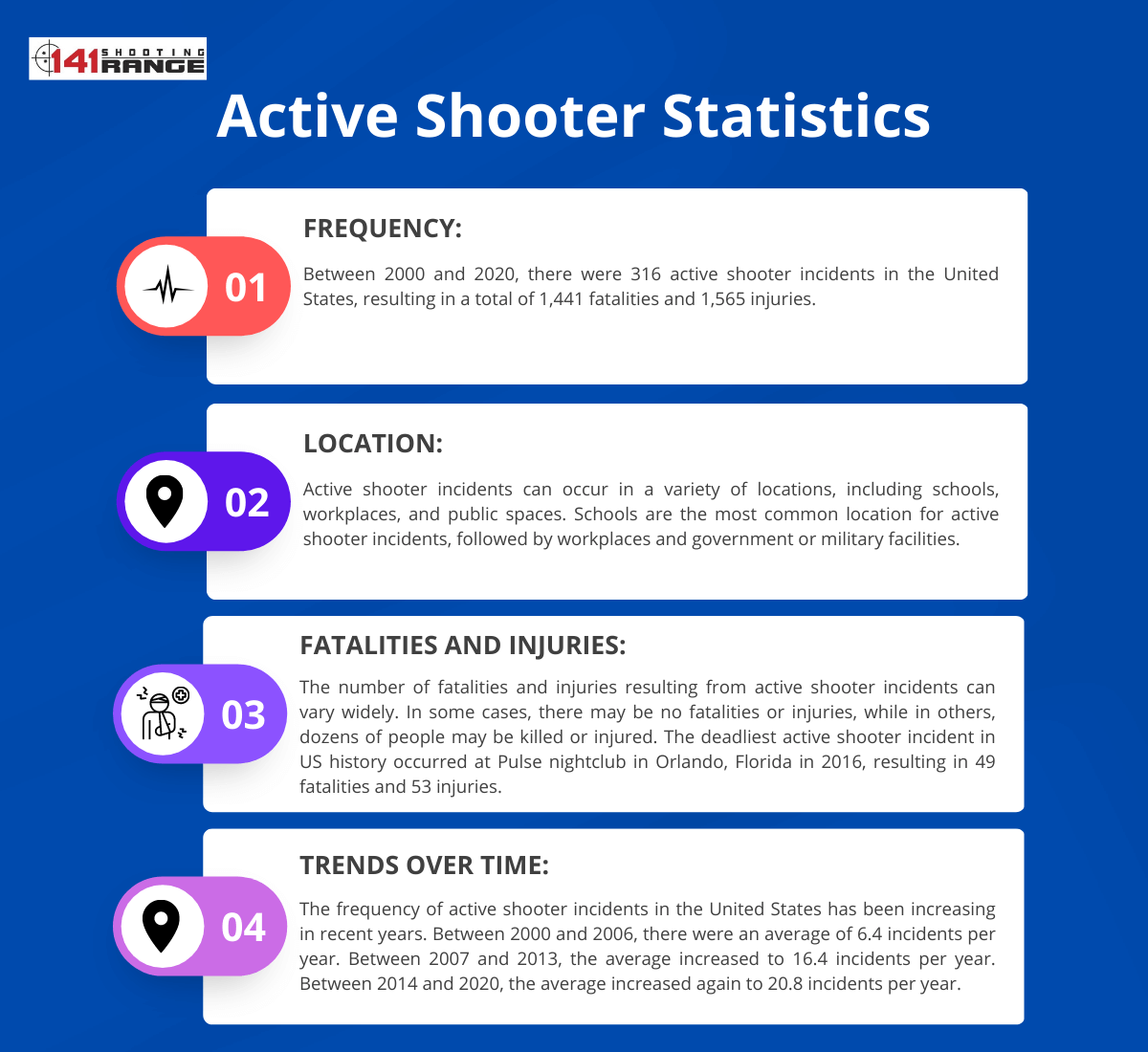 What Kind Of Training Do We Offer And What Do You Need?
We recommend doing certification to key members of staff who are most prone to be put in a position to protect others, front-line security type personnel, teachers, front office, and security, etc. Also, people who have been at your facility for some time to justify putting money into them (we understand due to employee turnover, some positions, the training doesn't make financial sense). Certification is good for 2 years.
These are continuous training classes we use mostly for working on a set of subskills to be better proficient at a certain area such as gun disarms, moving of injured students, immediate aid of injured persons. These are normally done quarterly or yearly as a way to improve staff's performance.
Sometimes we are asked to talk about active shooters for groups. These talks are designed to bring awareness of the situation and are sometimes used as an introduction to getting buy-in from company executives, its employees or members. The cheapest option usually works for check-the-box training (which we frown upon as lives depend on us) and can be used for new hires, temporary workers, etc., who may not fit the bill for certification.
Strategy For Responding To An Active Shooter
Signs Of Suspicious Behavior
Start Your Active Shooter Training With Northeast Arkansas' Finest Active Shooter Certified Instructor
Anyone can be a part of our active shooter training program. 141 Shooting Range has all it takes to prepare anyone against any active shooter event. Unfortunately, desperate times call for desperate majors; get your organization ready for any unlikely event that may take place in the future.
If your location is within Arkansas, Missouri, Tennessee, Mississippi, or anywhere in the US, give us a call today!
Shelter In Place Procedures
Need A Private One On One Class On Concealed Carry, CPR, BLS, Active Shooter, Self-Defense And Conflict Management?
Frequently Asked Questions: