Sig Sauer, one of the world's most historic gunmakers, has produced some all-time classic handguns. Though not initially conducive to concealed carry, Sig Sauer handguns have built a name for themselves as military and law-enforcement sidearms all over the world. That doesn't mean they're limited to service and those who don't mind carrying what feels like a metric ton. There are numerous excellent concealed carry Sig Sauer handguns that live up to the company's stellar reputation while being lightweight on the gun belt.
What is the finest Sig handgun for concealed carry? They're numerous. The question is more about what is the best Sig Sauer handgun for your own tastes, preferences, and so on.
They create so many distinct handgun types that looking at all of the numerous Sig handguns available may almost make you drunk.
Sig P229
The P229 is an old-school Sig gun designed for concealed carry. It's a P226 version with a shorter barrel/slide and grip for easy carry. It's around the same size as a Glock 19, but slightly heavier due to the metal frame.
The P229 is a traditional detective's handgun, similar to the full-size gun but smaller for concealed carry. The controls are identical to the P226, and the magazine capacity remains 15+1 9mm. There are several trim variations available, including a SAO variant and an optics-ready model.
While it may not be for everyone (conventional DA/SA firing system, a little heavy), it's a beast of a handgun that will survive for decades and is worth considering.
Sig P320 Compact
When the P320 was first introduced, one of the concealed carry-oriented models was the Sig P320 Compact, which is still in production. And it's still one of the best Sig weapons for concealed carry.
Dimensions and specs are essentially identical to those of a Glock 19, putting it squarely in the compact category, and it has a standard capacity of 15+1 9mm. With a little searching, you can also find it chambered in .40 S&W, .357 Sig, and .45 ACP.
It may lack the frills of some other models, but it's a reliable working-class handgun. If the basic model isn't enough, there's also the Carry model, which has a full-length handle for an extra 2 rounds of capacity, and the P320 M18, a tiny form of the M18 handgun used by the US military that comes with manual safeties.
Sig P320 XCompact
Many handguns have been dubbed "Glock Killers" throughout the years, but the Sig P320 XCompact is one of the clearest justifications for an alternative approach to the poly/striker combination. It has every bell and whistle you could want.
The P320 XCompact is a P320 Compact with every upgrade you could want, including Sig Sauer's X frame, a straight trigger, night sights as standard, and an optic adapter plate for mounting an optic.
It has the same ergonomics as a CZ. The trigger is excellent, comparable to a VP9 or Walther PPQ. You have the option of mounting an optic or not.
Sig P365
In the Sig P365, Sig Sauer built a monster that rapidly became one of the most popular concealed carry pistols on the market. The P365 is one of the only pistols that has almost no drawbacks to owning and carrying, and it's not even that expensive.
The P365 does not completely reinvent the wheel, but it does make significant advances. It's a little striker pistol with a slim profile. The P365's dimensions are similar to those of competitor models like the S & WM & P Shield, Glock 43, and others, measuring 5.8 inches long, 4.3 inches tall, and 1 inch wide, with a 3.1-inch barrel. The party piece is a half-staggered magazine, which increases capacity to 10+1 in the normal magazine, with 12+1 and 15+1 extended magazines also available.
Greater capacity in a smaller package. Because night sights are standard, you may not need to upgrade, which is a plus. Some believe it is the ideal carry pistol, and if it isn't, it is perfect until the perfect one arrives.
Sig SP2022
The SP2022 is a bit of a sleeper in Sig's inventory, in that it's a DA/SA handgun similar to the P226 but goes neglected because it isn't the P226. That's ridiculous, considering its excellent value for money. The SP2022 is essentially a polymer-framed P226. It has a 15+1 capacity, an accessory rail, and the classic Sig Sauer control layout.
Ammo And Gun Accessories is the greatest place to buy Sig Sauer handguns online, especially if you live in Arkansas. We recommend them because they sell more than just guns; they also sell gun accessories, medical supplies, and other stuff. Logan Lee as a self-defense and handgun instructor founded the company. In addition, over the past 23 years, he has developed four full-time karate schools in Northeast Arkansas that have been offering real-world self-defense training to their respective communities. So you can be confident that you're getting the greatest deal possible.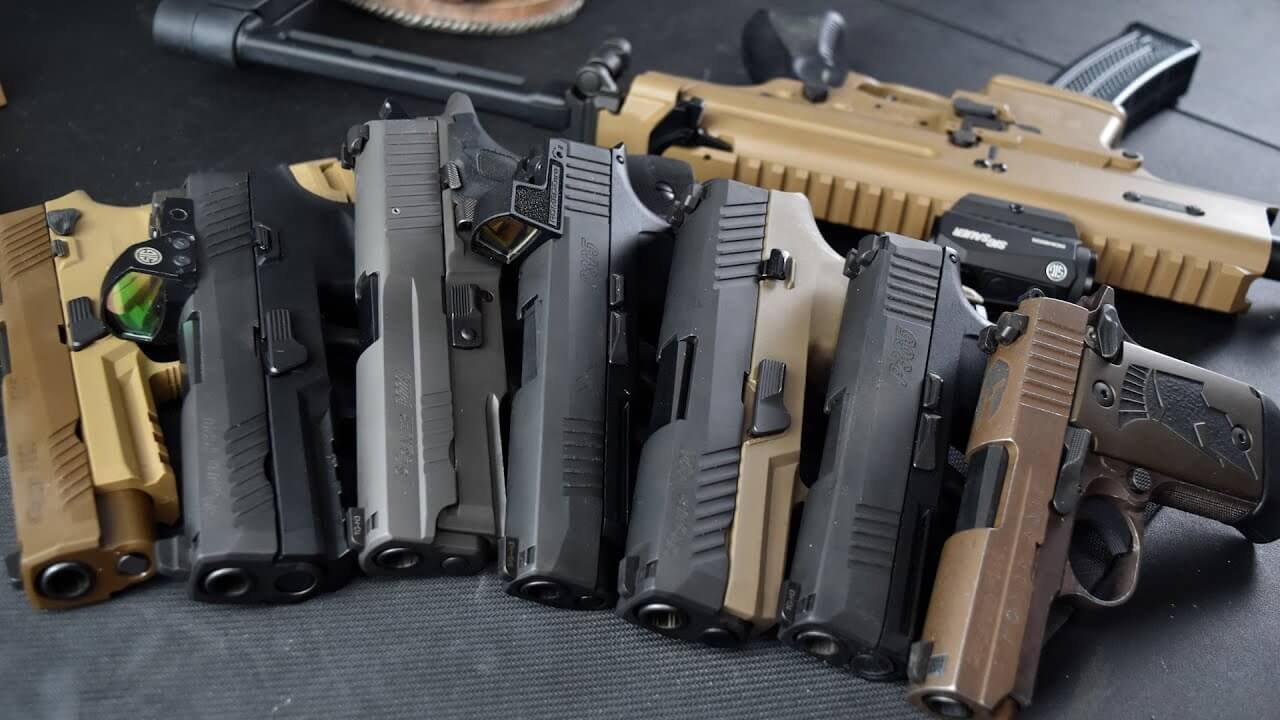 Check out our various firearm training sessions at 141 shooting range if you are new to shooting. We offer firearm training lessons to assist gun owners to shoot more accurately. We have great courses for beginning shooters as well as those wishing to break bad habits or improve their consistency. Allow us to assist you in establishing practice responses to real-world circumstances so that you, your family, and your business are protected! We offer field-tested concealed carry training and certificates in Jonesboro, Walnut Ridge, and Paragould, Arkansas, and we can also come to your location to train you and your employees! There are training options for CPR, BLS, Active Shooter, Conflict Management, Self-Defense, Stop The Bleed, Church Security, and more.
If you're undecided about which pistol to buy (not necessarily a Sig Sauer handgun), call Logan Lee, a self-defense and firearms instructor. He is also the founding owner of Ammo And Gun Accessories. He'll advise you on the best gun to buy based on your intended use.
Conclusion
When you know what you're searching for, it's much easier to find the perfect Sig Sauer. Just keep in mind why you're buying and what features you want, and try not to get distracted by all of the other options. Having a quality concealed carry Sig Sauer handgun on hand is an excellent choice that will surely come in handy when the need arises.